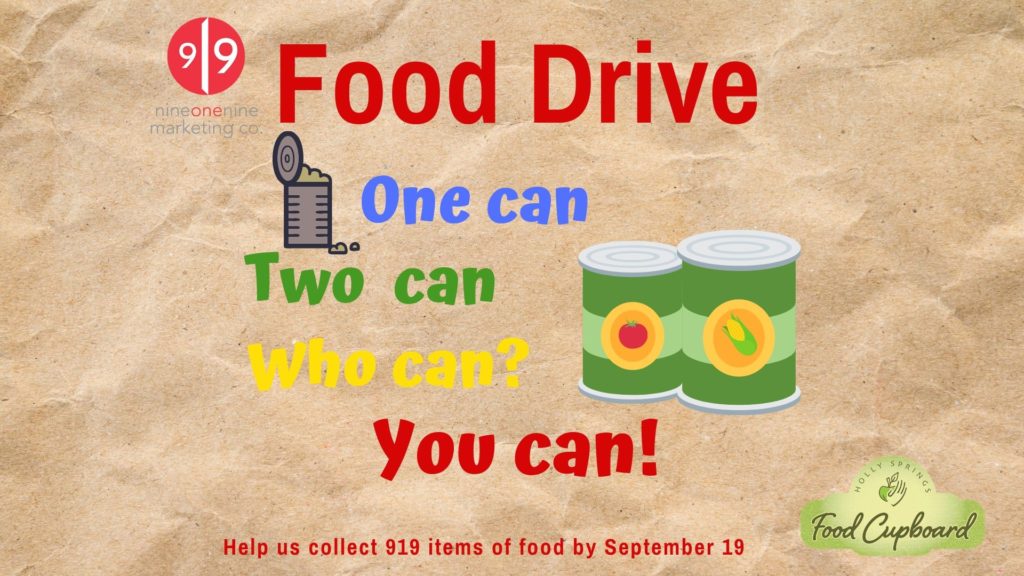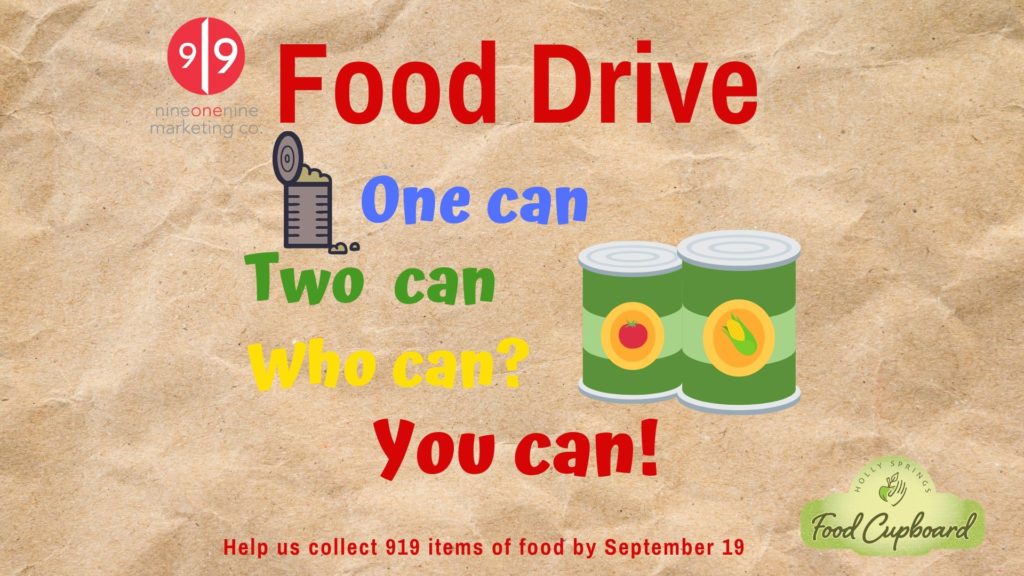 Help us collect 919 items of food by September 19th!
Help us out, Holly Springs! For the first (and only) time this century, we'll be able to mark a very special date on our calendars… 9-19-19! Let's celebrate 919 Day by helping the 919 community right here in Holly Springs.
Our goal is simple: Gather 919 food donations by 9-19-19! On the big day, we'll assemble the donations in a 919 formation and take a picture from above to show the power of the Holly Springs community.
Everyone from the town is invited to take part in the neighborly fun!
Last day to give: is September 19th at 11am!
Drop Off Locations:
919 Marketing – 104 Avent Ferry Rd
Bass Lake Draft House – 124 Bass Lake Rd
Black Dog Bottle Shop – 140 W Holly Springs Rd
Bombshell Beer Company – 120 Quantum Dr
My Way Tavern – 301 W. Center St
The Blind Pelican – 120 Bass Lake Rd
The Mason Jar Tavern – 114 Grand Hill Place
The Skrimp Shack – 7224 GB Alford Hwy
*Free order of hush puppies if you bring a donation!
The Holly Springs Food Cupboard Needs:
Peanut butter
Jelly (plastic containers)
Cereal
Crackers
Canned meat
Broth/gravy
Sauces of all kinds (plastic containers)
Ziplock sandwich and storage bags
Disinfectant wipes
Single-serving, boxed shelf-stable milk
Small pop-top cans of tuna, chicken or Vienna sausages
Small pop-top fruit