919 Marketing Leads Local Effort to Fight Hunger in Holly Springs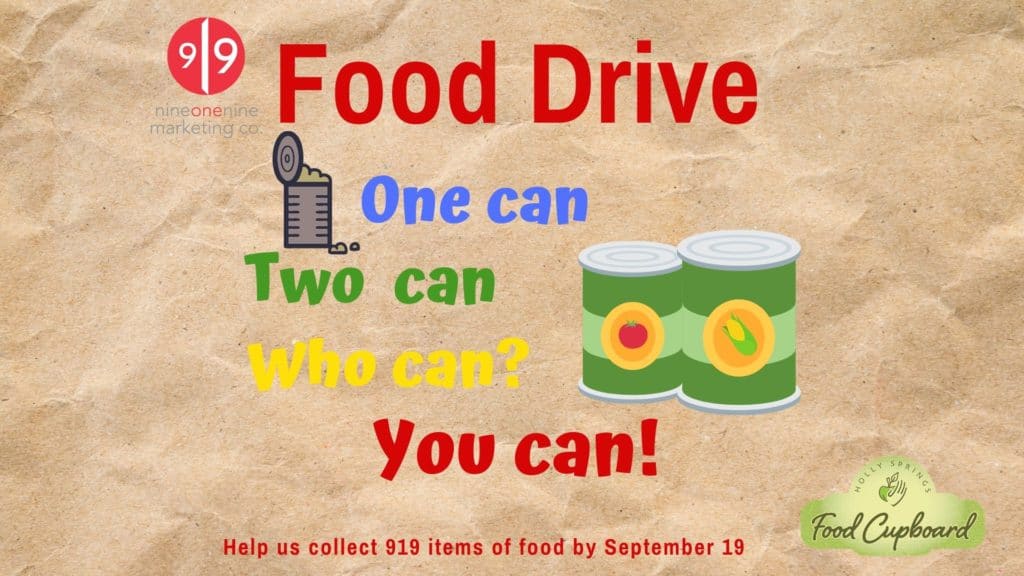 Agency Unites Community in Effort to Collect 919 Food Items for Holly Springs Food Cupboard
Holly Springs, N.C. (September 2019) – The Town of Holly Springs, North Carolina tops many lists as one of the best and safest places to live. But with the rising cost of living, more and more families are struggling to survive and put dinner on the table.
That's why this Thursday, September 19, the community will band together for a crusade called Feed Holly Springs' Hungry. Local businesses, led by 919 Marketing, participated in a food drive to collect 919 items of food. The donations will go to the Holly Springs Food Cupboard, a small non-profit located in a quaint cottage in the center of town where families line up each Thursday for their meals.
919 Marketing, a national content marketing agency based in Holly Springs, is presenting Feed Holly Springs' Hungry on the special day of September 19 or 9/19 — a day that comes around only once in a century. Volunteers will design the food donations in the shape of a giant "919" formation in the parking lot to raise awareness of the local hunger problem.
Representatives of the Holly Springs Food Cupboard, participating business owners, and members of the public are invited to attend a presentation ceremony at noon on Thursday, September 19, at 919 Marketing.
"The Holly Springs Food Cupboard is a wonderful, and necessary, resource for hundreds of families in our community," says 919 Marketing CEO and Founder David Chapman. "We want to use our expertise in content marketing and public relations to raise awareness about the Holly Springs Food Cupboard, and to assist the organization in its efforts to help our neighbors."
"We are so grateful for 919 Marketing's outreach and for the generosity of our Holly Springs community," says Holly Springs Food Cupboard Executive Director Pat Haggard. "Together we provide food to families in need of assistance. I only wish that all of you could experience first-hand the smiles and sincere thanks of the families we serve."
The Holly Springs Food Cupboard began with a food distribution at Holly Springs United Methodist Church in 2010. In 2018, the food cupboard helped more than 400 families.
Donors are invited to drop off items of food at the following businesses in Holly Springs:
919 Marketing (104 Avent Ferry Rd.)
Bass Lake Draft House (124 Bass Lake Rd.)
Black Dog Bottle Shop (140 W Holly Springs Rd.)
Bombshell Beer Company (120 Quantum Dr.)
My Way Tavern (301 W. Center St.)
The Blind Pelican (120 Bass Lake Rd.)
The Mason Jar Tavern (114 Grand Hill Place)
The Skrimp Shack (7224 GB Alford Hwy.)
About 919 Marketing:
Formed in 1996 and headquartered just outside of North Carolina's Research Triangle Park and the capital city of Raleigh, 919 is a national content marketing firm with a proven track record of helping companies increase revenue, create a competitive advantage and improve marketing results. We provide high-powered strategic planning, public relations, social media, digital marketing, business development support and full creative capabilities — each utilizing proven processes refined over hundreds of client engagements.
Our award-winning staff of marketing strategists, TV and print reporters, and social media trailblazers are seasoned experts, providing content marketing firepower needed to excite, motivate and engage your customers and prospects. 919 clients include startups, emerging growth companies and Fortune 500 corporations — from high-tech to health care, hair care and elderly care. 919 Marketing is a proven, go-to source for national companies of all sizes that want to grow their businesses. For more information, please contact David Chapman, CEO, at 919-557-7890 or email dchapman@919marketing.com.