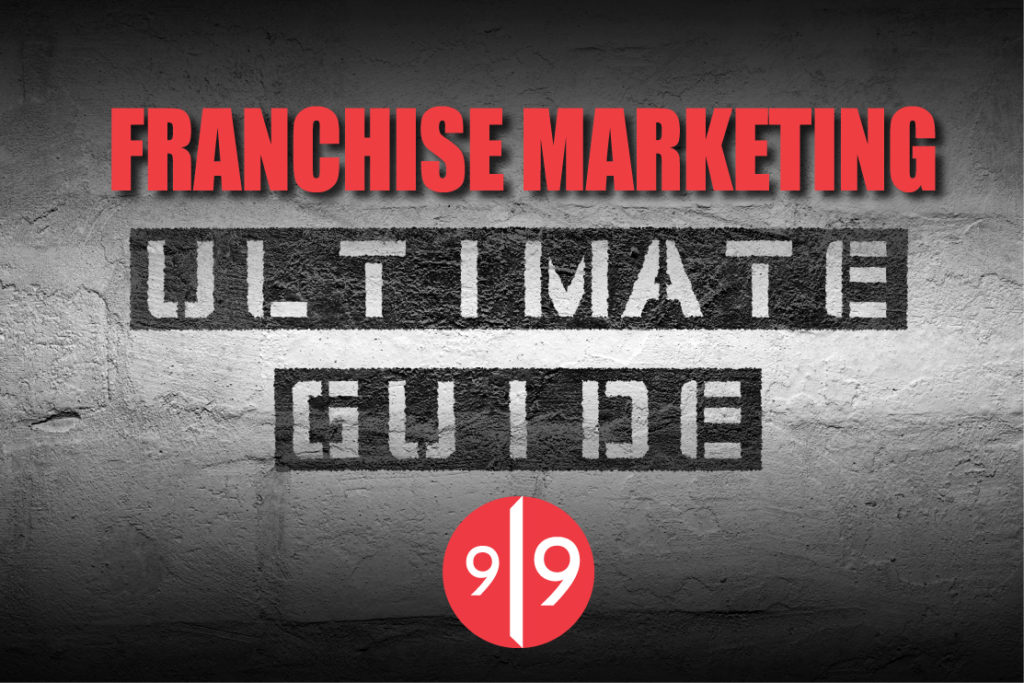 Franchisors telling brand stories to attract and retain customers and award more franchises
Intro
The nearly 750,000 franchises located in the United States, comprise more than 300 business format categories, in various sizes, in hundreds of locations. Clearly, franchising has become a critical driver of the U.S. economy and a consistent, reliable and convenient option for franchisees and consumers alike.
Despite these win-win benefits, many franchises struggle to navigate the confusing landscape of multiple marketing platforms and service providers. Not only that, but factors like message ownership, geographic differences, and budget allocation can make the journey toward a cohesive marketing plan feel overwhelming.
Overcoming these myriad challenges to building a nationally recognized brand with multiple locations operating profitably hinges upon identifying and engaging trusted franchise marketing partners.
Often, franchisors default to copycat marketing approaches—simply doing what everyone else is because they lack the resources and data needed to make informed decisions. How do you create a bold departure and rise above the sea of sameness?
There's good news: getting started is the hardest step. Once you understand each piece of the puzzle, you'll quickly and strategically create your own customized franchise marketing strategy.
The Three Goals of Franchise Marketing
There are three goals of franchise marketing—what we call the Franchise Marketing Matrix—that all need to integrate to ensure success. When done right, each initiative will have its own distinct goals, strategies and key performance indicators (KPI's) that will help support the marketing structure as a whole.
The three parts of the matrix include:
Brand Development – Positioning the brand and leadership team in a way to make the franchise attractive to investors.
Franchise Development – Bringing in new franchisee prospects in hopes they will purchase one or more franchises.
Franchisee Growth – Marketing to end consumers to get them to buy from franchisees.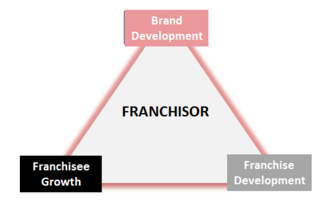 Once processes are in place to execute against these goals, all marketing initiatives will be developed and evaluated per the overall brand strategy.
Initial Research and Goals
For each part of the Franchise Marketing Matrix, it's important to develop an audience-focused marketing strategy based on the measurements you want to reach. This involves performing a situation/SWOT analysis; identifying specific, quantifiable goals; determining budget allocation; and developing a system to measure success along the way.
Situation/SWOT Analysis
It's beneficial, if not crucial, to first perform a thorough analysis—both internal and external—to learn where your brand stands within the industry, and whether it's currently addressing your audience's needs. This is what is often referred to as a SWOT analysis: Strengths and Weaknesses (Internal factors, such as location(s), knowledgeable team members, budget, competitive advantages, etc.) and Opportunities and Threats (External factors, including market growth, changes in regulations, changing consumer behavior, etc.)
During this process, it's important to research your competition. Our content marketing data analytics tool, 919 Insights, empowers you with data-driven insights into the types of website and social media content that work for your competitors, and enables you to understand what kind of social and digital campaigns will steer leads your way.
It is also important to identify your target audience's needs and pain points. We can help you learn your prospect's main interests as well as the problems they need to solve.
A SWOT analysis should involve leadership as well as people from all aspects of the business, including sales, customer success, marketing and product development. Conducting this type of thorough brainstorming session allows you to organize your strategy, and learn what actions to take to combat threats and turn weaknesses into strengths.
Set quantifiable goals
What specific goals are you looking to attain? These must be quantifiable—for example, you might want to bring in x number of leads, or maybe you're looking for $x in revenue over a certain amount of time. Whatever the goal, make sure it's measurable and define how you will assess your progress.
Prepare a budget
When it comes to budget allocation, you can't do it all. Therefore, you need to know your limits and your priorities. Simply copying what your competition is doing with a smaller or larger budget won't guarantee you success – after all, you don't know if they're succeeding all the time.
This goes back to your goals. Look at your budget and your goals. Where does it make sense to put marketing dollars to achieve those goals? Where might other marketing expenses be pulled that don't directly move the needle on those goals?
Measure Success
As the goals you put in place during your initial business analysis inevitably change over time, you also will need to evolve how you measure success.
Determine what is considered "successful"—maybe it's a lift in sales, more social activity, or increased foot traffic. If an initiative doesn't move the needle as much as expected, the goal may need to change or you might try a different approach.
Brand Positioning: What is Your Story?
Your marketing is a reflection of your brand. Make sure the two are in step. This is especially important for a franchise because success or failure is based largely on how people see the brand. Effective brand positioning means customers will associate your brand in a unique, credible and positive way. It also makes your franchise more desirable to new franchisees.
In order to create a compelling brand story, you'll need to audit your current overall positioning for:
Consistency – Whatever the message you want to convey, make sure it stays consistent across the Franchise Marketing Matrix. Whether it's promoting the brand, driving franchise growth or engaging customers, the overall message and look should immediately bring up your organization in people's minds.
Voice – Inconsistent brand voice, unfortunately, becomes more common as an organization grows. Brands must establish the words and phrases that will regularly appear in their brand messaging and stick to it across the board. Here are a few exercises that will help you develop your brand's voice:
Have team members each describe what they think of as your brand voice in three words – then vote to see what comes out on top.
Create a fill in the blank. For example: "Our brand should make people feel____."
Try to answer key questions, such as, "How do you want customers to feel when using your product?"
Relevance – Your brand and/or products need to be relatable both to your target audience and to the location you service.
What are the demographics? It's important to position the tone and message to reflect how your customers talk and act, while remaining true to your brand. Add personality and be unique. What one thing do you really want to drive home to your audience that convinces them to go with your brand over another? For some franchises it's value, for others it's quality, and for others, it's evoking an emotion or sentimentality.
Develop Buyer Personas
Know who you want to target. Build off your brand positioning exercises and create distinct buyer personas. At a high level, these are simply fictional representations of your ideal customers. They allow you to have a concrete understanding of the different groups of people you want to reach and help you better tailor your marketing touchpoints.
Franchises should differentiate between national and local audiences. Compile a list of customer demographics, and identify the differences for each location. Then, truly understand and address customer pain points. What are their needs? What do they struggle with? Build around the audience's pain points you've identified in your SWOT analysis, and create the personas you hope to engage based on those demographics and challenges.
Finally, learn how your audience consumes information. Do they prefer quick information on the go? Do they want articles or videos? Do they want a constant stream of content or just one-offs? Identifying the right content mix takes time, but you can accelerate the process by using form fields on your landing page, surveying your sales team, using tools like 919 Insights, and interviewing current customers about the content they engage with.
Create Valuable Content
This, as they say, is the crux of the biscuit. Marketing is about more than just shouting how great you are into the abyss: you need to build trust and authority with the audience you're targeting.
This is why it's so important that your prospective franchisees or potential customers are able to find relevant, useful, relatable information that addresses their pain points and answers their questions. This is where franchise content marketing plays a major role.
Be Helpful
Instead of pitching your products or services, you should deliver information that makes your buyer more intelligent. Good content marketing makes a person stop what they're doing and read/watch/listen. It makes them think and behave differently because they learned something from you.
Be Authentic
People want to buy from and work for brands that are humanistic, and humans make mistakes. Addressing your weaknesses (bad reviews, growing pains when the system grew too fast, etc.) allows you to show that you are continually improving and innovating. If your brand's voice is fun and exciting, make your content fun and exciting too. If your brand's voice is buttoned up, make the content exceptionally helpful—to the point where people would be willing to pay for your content's guidance.
Map Content to Sales Cycles
Understanding your audiences' sales cycles allows you to get a sense of when and where content should be targeted, and to create a calendar based on that cadence. Most of this content should give solutions to pain points your audience faces at the beginning of their buyer's journey. This not only gets the brand noticed, but begins to build trust with an audience from the moment they find it.
As the prospect moves further down the sales funnel, spend more time talking about what makes your brand uniquely positioned to help them – whether for franchisees or for end consumers. This content can be sent via an email newsletter, directly from a sales rep, or retargeted to the audience over time to continue to build engagement.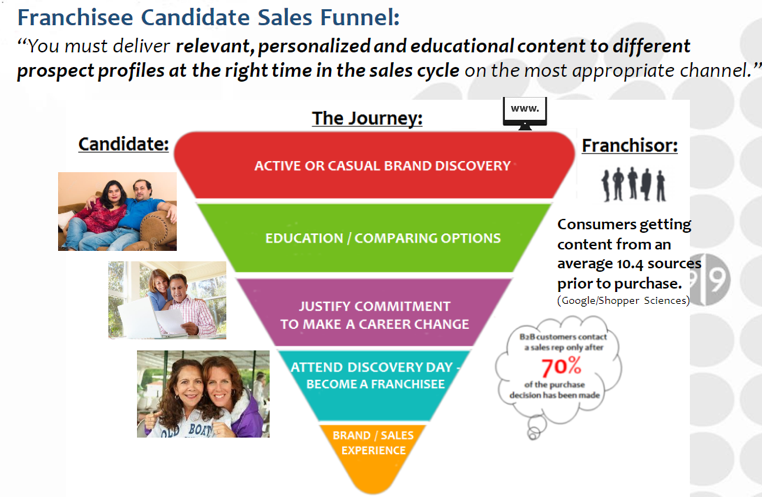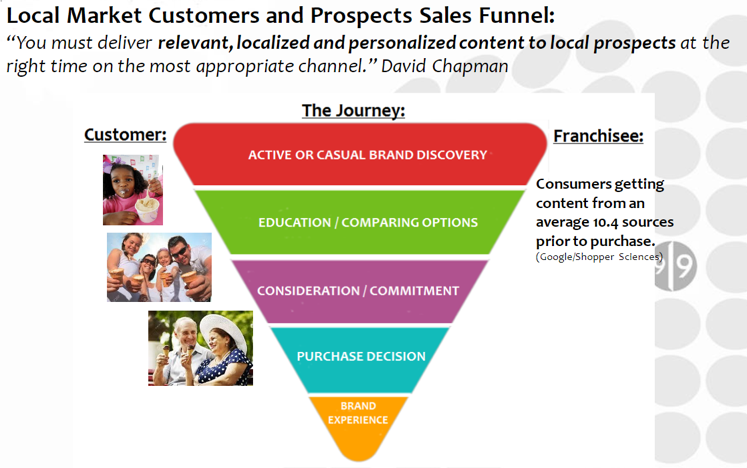 Map Content to Each Promotion Channel
This one goes hand-in-hand with content creation because you need to understand where you will be posting and promoting content before it's created. For example, a video embedded on a blog post may not perform as well as a well-maintained YouTube channel that people can easily subscribe to.
Content channels are broken out into Paid, Earned, Shared, Owned (the PESO model.) Let's look at the pros and cons of each:
Paid Media (paid advertising, display ads, branded content, commercials, etc.)
Pros

Quickly gets your content out to as large of an audience as you can afford

Can be targeted well in many cases

Good way of driving quick results in a short time frame

Cons

Once the money is gone, the campaign is gone

Cost-per-click fees on most networks rise over time
Earned Media (press mentions, op-eds, guest posts, awards, etc.)
Pros

Potential for massive distribution if you earn a spot in a large publication

PR success breeds more PR success, as an organizational leader can become a trusted source for future articles across many publications.

Cons

No guarantees with what publications pick up a story

Slower than Paid Media, which is almost instant

Don't have complete control over how your brand is covered
Shared Media (social media – tweets, likes, shared links)
Pros

Other people sharing your content costs you nothing

Content can quickly reach virality in some cases

Seen as more organic than paid media

Cons

No guarantee that others will share your content

Don't have complete control over how your stories are shared

Those sharing your content may not be your target audience
Owned Media (brand website, blog, videos, etc.)
Pros

You have complete control over the long-term building of your brand

Improves search visibility, enabling your brand to be front-and-center at your target audience's moment of need

Has an exponential effect as popular content often remains popular even as you produce more stories, driving results over time without increasing investment at the same rate

Cons

Slower than most other media, can take months to get traction

Larger investment up front to create great content and get things moving
Set Content Performance Metrics and Measure
In order to understand how your marketing efforts are performing, you first need to establish expectations for each set of content. How many leads do you hope to bring in? What are considered qualified leads? How many page views do you want? Make sure these aspirations are attainable and measurable. Then, map them back to the overall goals for the marketing program at the beginning.
If one set of content is underperforming, but another is doing well, consider shifting your budget. Sometimes focusing on one or two campaigns will drive more results than a more balanced approach.
Finally, measure as you go. Be honest with what you're seeing and adjust campaigns as necessary.
Closing
In a fast-moving, competitive franchise landscape, it's crucial to set the highest standards possible for your marketing efforts. Whether you already have a franchise marketing process in place or you're just starting from scratch, it's important to audit and leverage data analytics tools that can help your team understand your audience at a granular level.
Once you do, you can refine your brand story, the glue that will hold together all of the moving parts of your complex campaign. With this solid foundation, you will be better able to create engaging, powerful campaigns and deliver them to the right people, in the right place, at the right time.
And if you need help with your franchise marketing, check out our franchise marketing services. We'd love to help you out!