Rise Above the Clutter. Position Your Brand for Success.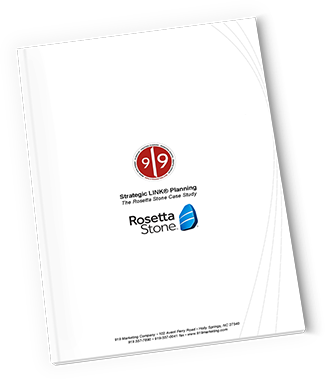 We are a national branding agency with the experience, the vision and understanding required to define, position and layout the strategy for building your brand.
Our branding services get to the heart of what makes your company successful – building the perception in the marketplace that you are better than anyone else at delivering what your customers want.
We use three branding methodologies — matching, mapping and emotional relationship — to thoroughly understand how your product or service relates to the competition and the wants and needs of the target audience.
David and the team at 919 Marketing were very instrumental in the branding and the growth of our organization. I highly recommend 919 Marketing's services to any company that is looking to create or expand a brand.
919 Marketing put a framework in place to give us goals, incentives and priorities to take our company to the next level. The LINK planning sessions held up a mirror on us that showed us who we really are, for good and for bad. I'd like to thank you for the insight and vision LINK has provided us. We are confident that our sales and marketing efforts are based on sound market intelligence.
919 Branding Services
We have the experience, the methodologies and the track record you need to position your brand for success. Our services include:
Brand assessment

Competitive brand analysis

Quantitative and qualitative testing of potential brand positioning strategies

Brand positioning

Brand strategy
Strategic branding plan

Names, logos and taglines

Corporate identity programs
Explore Our Other Services
Ready to take the next step in branding your business?
Fill out the form below and a member of our team will be in touch to get started. We look forward to working with you.